Het mooie weer komt er aan dus dat betekend dat we buiten kunnen trainen.  Bij buiten trainen denk je al gauw aan bruin worden! En nu zit je natuurlijk niet te wachten op de tan lines van een badpak. Maar daar is een oplossing voor, de trainingsbikini's van Arena, RuleBreaker.
Ik hoor je al denken; "trainen in een bikini? dat kan niet." Maar Arena heeft het tegendeel bewezen met de RuleBreaker. De bikini's kun je strikken zodat je hem strak kan aantrekken, op die manier sluit hij goed aan en blijft hij zitten zodra je in het zwembad duikt of een sprintje trekt. Er zijn 4 modellen bikini topjes. In dit blog probeer ik je een meer te vertellen over de bikini topjes, en dan voornamelijk de voor- en nadelen van de verschillende modellen. Houdt wel in gedachten dat per persoon de meningen kunnen verschillen en dat ik hier mijn mening en ervaringen deel maar deze kan dus voor iedereen anders zijn.
Arena Think top
De Arena Think top is meest bedekkende top van de vier. De top is gebaseerd op een halter crop top, hoog aansluitend bij de hals waardoor hij echt bedekt en deze top moet worden gestrikt op de rug.
Voordelen van de Think top; de hoge aansluiting bij de hals zorgt ervoor dat hij strak aansluiten waardoor hij geen water vangt tijdens het zwemmen. Hij moet aan de achterkant gestrikt worden waardoor hij verstelbaar is voor jou figuur. Hij blijft goed op zijn plek en is erg geschikt om in te trainen, maar natuurlijk ook voor recreatief gebruik.
Nadelen van de Think top; hij moet aan de achterkant gestrikt worden waardoor je hem moeilijk zelf kan strikken en dus eigenlijk altijd wel iemand om hulp moet vragen. Verder kan de hoge aansluiting bij de hals wat benauwend aanvoelen. En het is natuurlijk niet de meest geschikte bikini om in te gaan zonnen omdat hij zoveel huid bedekt bij de decolleté, maar dit hoeft natuurlijk niet voor iedereen een nadeel te zijn!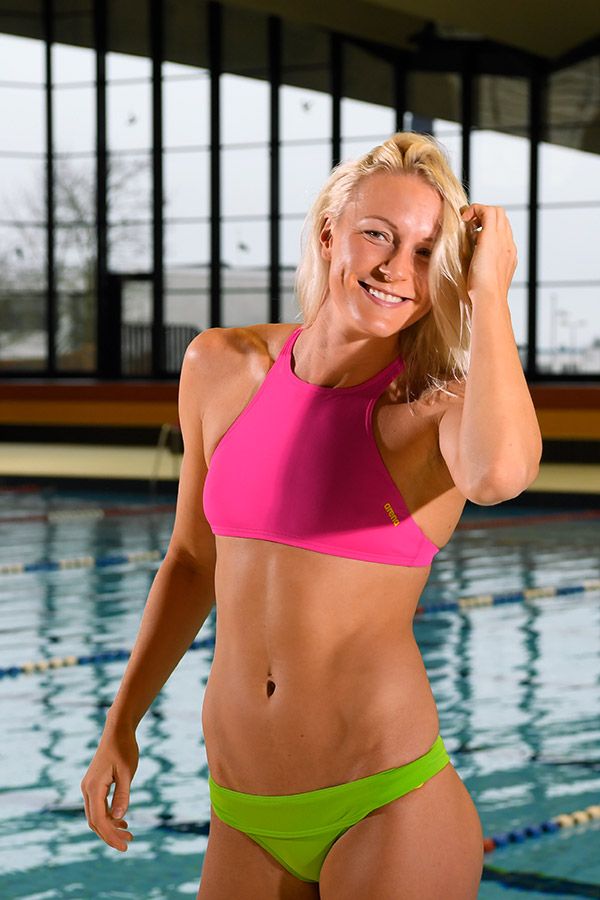 Arena Play top
De Arena Play top is een bandeau top. Deze top loopt niet door tot aan de hals waardoor hij ook minder bedekt. De top moet aan de voorkant worden gestrikt. De rug van de top bestaat uit 2 losse bandjes die op het midden van de rug samen komen, en in een V vorm omhoog naar de voorkant gaan.
Voordelen van de Play top; hij wordt aan de voorkant gestrikt waardoor je hem dus makkelijk zo strak aan kan trekken als jij wilt, en hem dus ook zelf kunt strikken. De top geeft veel bewegingsmogelijkheden omdat hij niet tot aan de hals aansluit.
Nadelen van de Play top; het is een rechte stuk stof waardoor hij al snel water kan gaan vangen en dit kan ervoor zorgen dat hij niet altijd even goed op zijn plek blijft zitten; Tip als je hier last van hebt maak dan eens een strik met de stof er tussen, maakt er een triangle model van, dit zorgt ervoor dat hij geen water meer kan vangen. Ook is het stuk stof niet heel lang waardoor de bikini niet helemaal geschikt is voor meiden met wat grotere borsten.
Arena Be top
De Arena Be top is net als de Arena Play een bandeau top. Toch is deze bikini duidelijk anders dan de Arena Play. De Arena Be top heeft aan de voorkant, in het midden, het Arena logo uitgesneden. Ook deze top moet aan de voorkant worden gestrikt. De rug loopt als een smalle halter top.
top; naast alle voordelen die de Arena Play top ook had heeft deze top als extra voordeel dat het logo aan de voorkant ervoor zorgt dat hij geen water vangt. Doordat hij geen water vangt blijft hij dus nog iets beter op zijn plek zitten, maar zoals ik al zei heeft niet iedereen last van het "water vang probleem".
Nadelen van de Be top; voor meiden met wat groter borsten is deze bikini niet helemaal geschikt omdat net als bij de Arena Play top de stof kort is maar nu heeft deze ook nog het logo in het midden waardoor hij nog minder bedekt.
Arena Feel top
De Arena Feel top is een triangle top, driehoekige stukjes stof. Hierdoor bedekt deze top het minste. De top wordt op de rug gestrikt. Op de rug maak je eerst een kruis en daaronder zit de strik.
Voordelen van de Feel top; dankzij de driehoek vormige stukjes stof sluit de bikini goed aan en is er dus geen sprake van water vangen. Ook sluit de bikini goed aan doordat hij volledig te verstellen is omdat de bandjes los aan de driehoekjes zitten en dus goed strak te trekken is. Als we het dan toch hebben over het bruin worden, deze bikini is het meest geschikt om in te gaan zonnen.
Nadelen van de Feel top; het is de meest onthullende bikini top, dit kan voor sommige een nadeel zijn omdat het te bloot kan zijn voor tijdens het trainen. Daarnaast kan het voor meiden met kleinere borsten een wat minder geschikte top zijn om mee te trainen, omdat hij voor hen wat meer kans geeft op het vangen van water.
Dit was het dan, mijn review over de Arena RuleBreaker. Ik hoop dat het nuttig voor je was en dat je iets hebt aan mijn bevindingen!
Door: Madelijne Schothans