Liefde voor de zwemsport
Dag in dag uit werk jij je in het zweet en zet jij je in voor waar je van houdt. Er zijn dagen dat je fluitend het bad binnenloopt vol zelfvertrouwen en dagen dat je het liefst omkeert en terug gaat naar je bed of op de bank kruipt. Elke training gaat er wel een keer door je hoofd, wat zou een normaal mens doen op momenten als deze? Terwijl jij net het keerpunt maakt dat staat voor de 3 kilometer die je nu achter de rug hebt.
Jij en je zwemvrienden of zwemvriendinnen maken alles mee, van de gedeelde irritaties tegen iemand die WEER niet genoeg afstand neemt, of voor je start terwijl diegene niet eens sneller is, tot de vreugde van het afmaken van een zware set. Liefde voor de zwemsport is iets wat diep zit, het is een gevoel die elke sporter vast wel kent. Wat maakt zwemmen anders? Het gevoel dat je krijgt in het water waar je soepel door heen beweegt, is een gevoel dat je in een enkele andere sport ervaart. Al het geluid gaat weg van de omgeving wanneer jij je hoofd onderwater doet en even is het stil. Stil zodat jij je volledig kunt focussen op de bewegingen die je maakt in het water en hoe je deze nog beter kunt maken.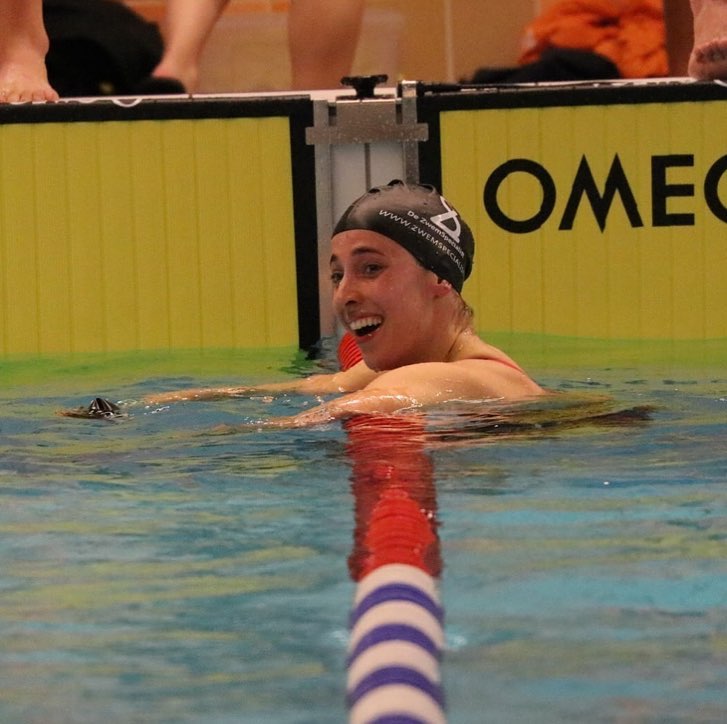 Wedstrijden die komen zwem je getraind (of ongetraind) met altijd een lichte spanning van opwinding dat je weer mag laten zien wat je kunt en dat je jezelf weer mag laten zien waar je lichaam toe in staat is. Het is stil voor de start en je duikt erin, je voelt dat je misschien wat aan de late kant weg was, maar bent vastbesloten om dit zwemmend goed te maken. Het is weer stil om je heen en pas wanneer je hoofd bovenwater komt om te ademen, hoor je omgevingsgeluiden. Van je coach die je aan staat te moedigen tot al je teamgenoten die je schreeuwend door de wedstrijd heen slepen. En ja, dit zijn diezelfde vrienden die stiekem (of niet stiekem) lachen wanneer jij de laatste 20 meter van een 200 vlinder zwemt en nauwelijks je armen nog over het water heen krijgt. Je tikt aan, en kunt trots zijn, je hebt het weer gedaan en denkt terug aan de trainingsarbeid die erin is gegaan. Je stapt uit het water en gaat weer naar de plek waar je club zit en je weet, maandag begint het allemaal weer opnieuw en loop ik het zwembad weer in. En of dit nu fluitend is of met lood in mijn slippers, ik zou het zo weer over doen.